The sound of success at the drive-thru.
Our revolutionary design has an innovative ,patent-pending control pod that detaches quickly and easily for simple repairs. Plus it's loaded with user-friendly features like haptics technology (vibrations), light/sound indicators and a rugged casing. It's going to change the way your team operates.
3M authentication ensures quality from day one
Only using a genuine 3M control pod, carrier and battery together will power the headset.
You invest in 3M quality, reliability and safety, we're here to make sure you get it
Get charged up about a smarter battery
a battery charge gauge, end-of-battery-life indicator and 3M OEM battery authentication, you'll never be surprised by a dead battery again.
Headsets charge in the integrated headset storage unit, which can be mounted on a wall or set on a tabletop. No need to remove the battery, just pop it on the dock and you're good to go.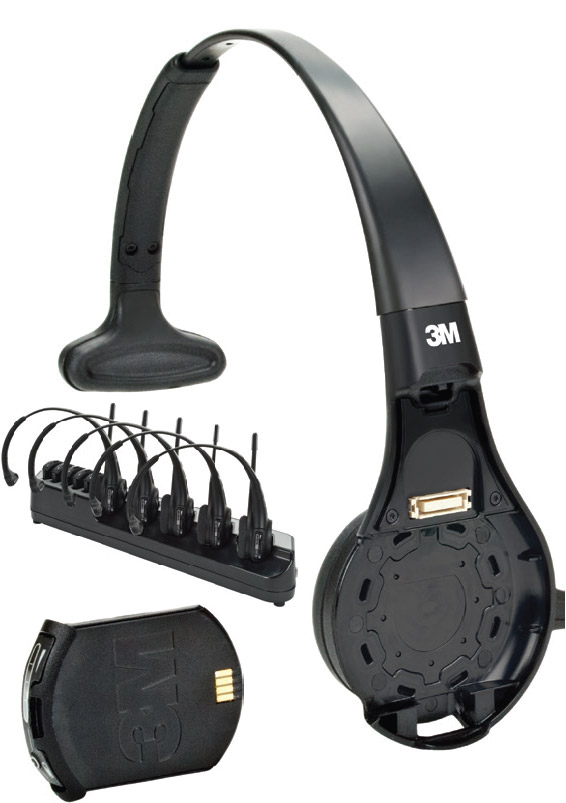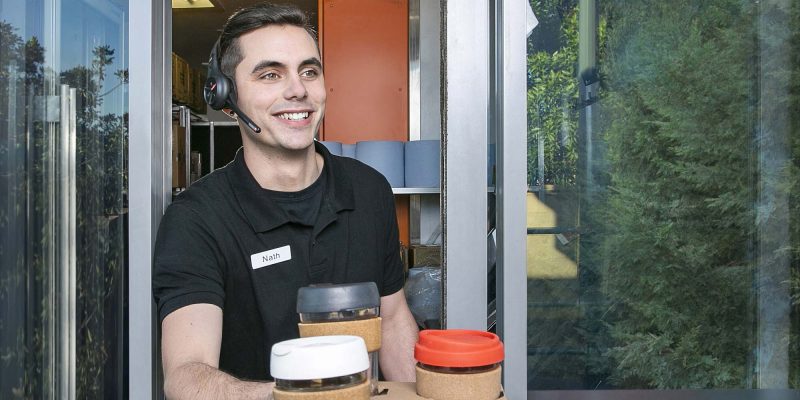 Speed, accuracy and clarity are three main ingredients to ensure a great drive-thru experience. 3M's new Drive-Thru Headset G5 system covers all of these bases, delivering a communications system that combines unmatched sound quality with rock-solid reliability and ease of use.
The 3M™ Drive-Thru Headset G5 offers a full menu of intelligent features to keep your team connected including smart battery technology, modular design for fast in-store repairs and easy adjustment for the perfect fit.
Talk to a member of the UNS team about how you can achieve crystal clear sound clarity at the drive-thru, avoiding order errors and improving customer satisfaction.
Take service into your own hands
We designed the 3M headset so you can service and make key repairs, like replacing the headband, in store in seconds. Say goodbye to downtime and hello to easy.
Making some noise with noise reduction
The digital sound quality is better than ever thanks to enhanced mic technology that improves sound clarity and reduces background noise. Make kitchen noise at the speaker post a thing of the past.
Durable enough to handle any challenge
Enjoy minimal repairs with our most durable headset ever. Touch buttons and no on-off switch provide fewer moving parts and more reliability.
Lighter weight, more comfortable
We've improved comfort for the whole team with less weight, easy adjustments and even touch buttons.
A feathery touch at your fingertips
The touch buttons provide haptics feel — a small vibration when touched — to make sure no one misses a beat.
Easier identification, happier team
Communicate the right messages to the right crew member with confidence. Each headset can have its own color tag for easy identification by the team.
Get ready to experience a whole new level of communications. It features everything you asked for — increased durability, lighter weight, enhanced comfort, backward-compatibility and even the ability to make repairs in store.
The 3M headset is designed to make your team more productive and your business more profitable. Outfitting your team with this headset, along with the 3M digital base station, is clearly the sound decision.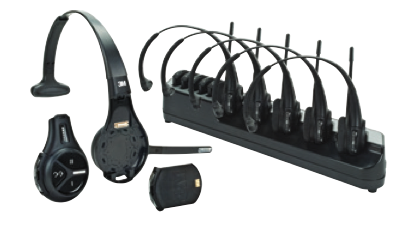 © 2019 Uniserv Solutions Powered by NKWH